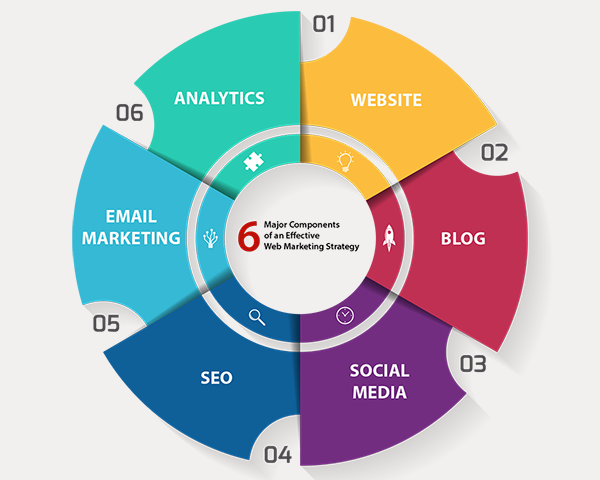 6 Major Components of an Effective Web Marketing Strategy
Posted on
September 6, 2016
The ease in which your target markets can find your company in the sea of information on the Internet is critical to your success. Ease of access to your business 24/7 is a direct function of your ranking on search engines. Gaining traction on these search engines requires a complete strategic marketing plan that includes your website, a blog, social media, analytics, email marketing and search engine optimization (SEO).
1. Website
Your website is the online face of your company. It is the primary component that sits between your business and potential online customers. When planned out, your website can provide information about your company and products and services, and convert clicks to leads and future sales. Additionally, it can be used to inform, engage, advertise, and speak on your behalf 24 hours a day, 7 days a week, never taking weekends or holidays off. Thereby, providing an unparalleled level of visibility and exposure that can increase your bottom line.
So you may be wondering, what should my business website look like? Your website should have that sharp professional, yet friendly look and feel with a well-structured layout, and clear and concise written content. A strategically planned website will also have calls to action, which are designed to direct and send visitors to the areas that interest them most.
2. Blog
In addition to your professionally designed website, you might also want to educate your target market, share company highlights and achievements, and/or promote newly added products and services. A blog provides the perfect vehicle to help achieve educating or informing your audience in this way. Blogs can also be used to link to specific areas of interests, share information to social media outlets, and help increase visibility with search engines.
3. Social Media
Today's world information moves at a tremendous speed heavily driven by social media. These web-based platforms enable businesses and individuals to interact with each another online in a blink of an eye. Providing the tools and applications that facilitate creating, sharing, and or exchanging information between users. For businesses, social media can be used to share important company information in various formats, including media-based content such as pictures and videos, as well as written content used to educate, persuade, and even convert visitors to customers.
As a business, your social media profiles should contain professional brief descriptions highlighting the essence of your business. Your social media presence needs to be consistent with your brand, match and compliment your website and online profiles, provide contact information, and a link back to your website.
Social media posts also need to be strategically planned. These connecting posts should be congruent with company goals, missions, and posted on a consistent basis. Posts that are well structured can augment your marketing plan.
4. SEO
For existing and potential customers to find you online, your company's website needs to rank highly on search engines. While this may seem obvious and simple on the surface, there is quite a bit of work and planning involved. A major role player in that work is Search Engine Optimization (SEO). SEO is a web marketing strategy utilized by companies to increase their ranking on search engines, which in turn increases the number of visitors to the site. As the results of SEO are natural in nature and not generated by implementing a service like Pay-Per-Click (PPC) or Ad Marketing, they are considered organic.
Companies that have a brick and mortar location or provide a service in a specific area, the Local section of Google is where you want to be. This section contains a listing of companies that provide services to a local city or town. Based on keyword searches, this section of Google includes map and local listing information that are displayed for businesses in your local area. If your business depends heavily on local sales, and it's not listed in the local section of Google, customers will not find you.
5. Email Marketing
Email marketing is a technique that's used to send messages or information about your company. In a general sense, it is used to retain customer loyalty, get repeat business and/or convert new visitors into customers. This marketing approach typically involves sending out information in the form of a newsletter or advertisement. Which introduces products or services, market sales, and/or provide industry-related news and information using targeted email lists.
6. Analytics
Analytics, the data you collect about your site visitors, can be extremely valuable input for developing solid marketing strategies. Based on the type of analytic tools chosen, the data collected can provide feedback about site visitors, allowing you to provide a more customized experience. Some examples of data collected include the geographic location, areas of interest, time of day visits, and behavior of users. This information can assist businesses with better understanding their organization and target markets, and refining their marketing approach.
Conclusion
In today's ever-changing marketplace, a simple website may not be enough for your target audience to find you. Companies now need a solid web marketing strategy to be successful in building a strong online presence. Implementing your website, blog, social media, analytics, and SEO plan, you will have no problems allowing your existing and potential clients to stay engaged and abreast of where your company is heading and what's offered, and a way to market locally and globally 24/7 and boost your bottom line.